In the ever-evolving world of sustainable transportation, the Gen2 electric bicycle by Bobrental stands as a testament to cutting-edge design, unparalleled durability, and eco-friendly mobility. As we delve into the intricate process of creating this marvel on two wheels, you'll discover the ingenious features and technologies that make the Gen2 a true game-changer.
Indestructible Design for Endurance
One of the standout features of the Gen2 electric bicycle is its remarkable durability. Designed to withstand the challenges of urban commuting, the bike boasts airless tires that eliminate the worry of punctures, ensuring a smooth ride without the hassle of flats. Additionally, the absence of exposed cables enhances both safety and aesthetics, eliminating the risk of cable breakage or tampering.
Electric bicycles primed for discovering paradise.
Adaptive Comfort with Adjustable Seat
Riders experience utmost comfort with the Gen2's adjustable seat. Swiftly adjustable within seconds, the seat accommodates various rider heights, making every journey a comfortable and personalized experience.
Elevated Speed and Control
The Gen2 redefines the concept of speed and control, offering a powerful ride that's as effortless as it is exhilarating. With a maximum speed capped at 28 km/h, riders can cruise the streets with the wind in their hair while maintaining a comfortable and controlled pace. This balanced approach to speed ensures both exhilaration and safety.
Durable and tireless due to airless tires.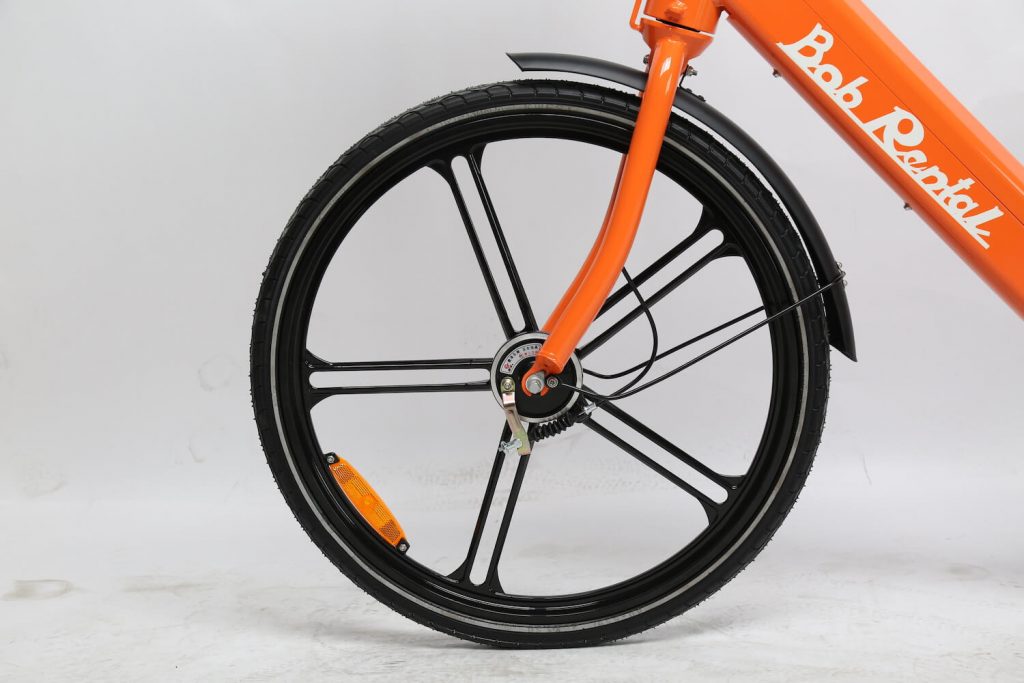 Smart Tracking and Security
Equipped with advanced GPS tracking technology, the Gen2 provides an extra layer of security. Through the accompanying app, users can easily monitor the bike's location in real-time. In the event of any concerns, the app empowers users to remotely shut down the bicycle, safeguarding it from unauthorized use.
Display for All Environments
The Gen2 boasts an integrated display that remains perfectly legible even in varying lighting conditions. Whether under the scorching sun or in the pitch-dark of night, riders can easily access crucial information like speed, battery status, and distance traveled.
Swift and Efficient Charging
At the heart of the Gen2's propulsion lies a cutting-edge Samsung battery that offers ultra-fast charging capabilities. This means less time waiting for a full charge and more time enjoying the open road.
Vibrant Orange for Brand Identity
Reflecting the distinctive brand identity of Bobrental, the Gen2 electric bicycle is available in the signature orange color. This not only adds a vibrant touch to the streets but also signifies a commitment to sustainable mobility and environmental responsibility.
Explore our electric bike Gen2