Unleashing Efficiency and Style
As the demand for sustainable transportation solutions continues to grow, electric vehicles are taking center stage. Bobrental, a leading name in the electric vehicle industry, has introduced their Gen2 Electric Moped, designed to provide an eco-friendly and efficient mode of transportation. We had the opportunity to put this innovative electric moped to the test on the vibrant streets of Amsterdam, exploring its features and highlighting its unique offerings.
The Gen2 Electric Moped from Bobrental is not just a means of transportation; it's a style statement. Available in Matt Blue and Hermes Orange, this moped is a head-turner on the streets of Amsterdam. Its sleek and iconic design pays homage to Italian style, capturing attention and setting trends wherever it goes. If you're looking to make a statement while exploring the city, this moped is the perfect choice.
Exploring the avenues of Amsterdam
Versatile Battery Options for Enhanced Performance
One of the standout features of the Gen2 Electric Moped is its versatile battery options. With a choice between a Samsung battery and a Greenway battery, riders can tailor their experience to their preferences. The Samsung battery offers powerful performance, ensuring you can zip through traffic with ease. On the other hand, the Greenway battery provides an eco-friendly option for those who prioritize sustainability. Whichever battery you choose, you can expect a smooth and efficient ride.
Navigating through Amsterdam's bustling streets can be a challenge, but the Gen2 Electric Moped handles it with grace. Equipped with high-speed tires capable of reaching speeds up to 140km/h, this moped ensures you're always in control. Whether you're weaving through traffic or cruising down the open road, the moped's performance is unmatched.
Cruising along the Amsterdam canals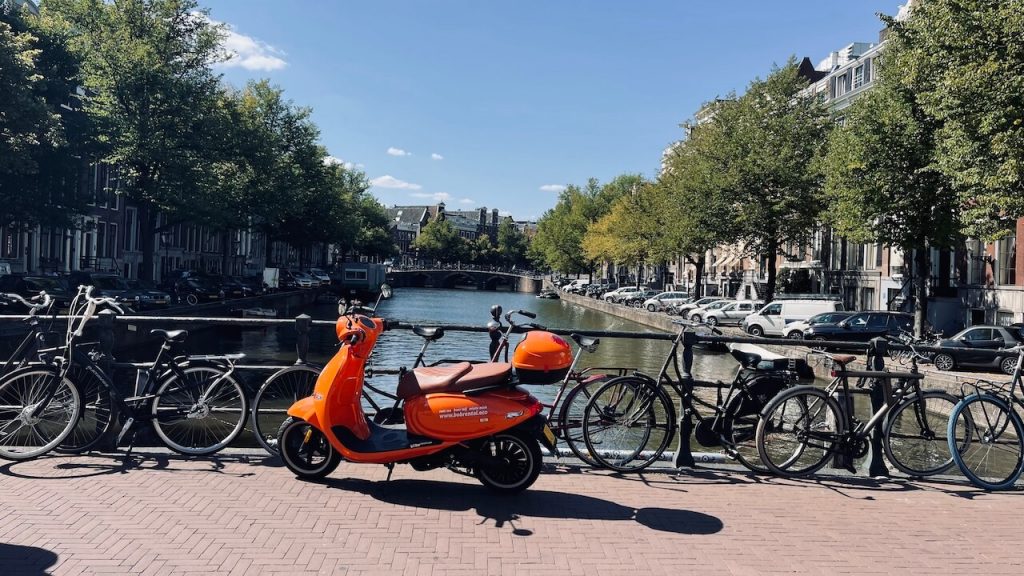 The Gen2 Electric Moped's eye-catching design ensures you won't go unnoticed on Amsterdam's streets. Its Italian-inspired aesthetics coupled with vibrant color options make it a visual delight for onlookers. Whether you're parked at a cafe, navigating through a bustling square, or exploring the city's charming canals, the moped's unique appearance is sure to capture attention and spark conversations.
Our test ride of the Gen2 Electric Moped from Bobrental in Amsterdam revealed a vehicle that seamlessly combines style, performance, and eco-friendliness. With its stunning design, versatile battery options, impressive speed capabilities, advanced LED lights, and considerate operation, this electric moped offers an experience unlike any other. Whether you're a local or a tourist, the Gen2 Electric Moped is a fantastic choice for exploring Amsterdam in a sustainable and stylish way. So, if you're ready to embrace a new era of urban mobility, hop on the Gen2 Electric Moped and embark on a memorable journey through the streets of Amsterdam.
Explore our electric moped