Embark on an exhilarating journey through Willemstad, Curacao, on an electric moped from BobRental. Glide along vibrant streets and stunning waterfronts with zero emissions, immersing yourself in the city's beauty and culture. With the convenience of an electric moped, you'll uncover hidden gems and iconic landmarks while contributing to a sustainable and memorable exploration of this captivating Caribbean destination.
Willemstad's Vibrant History
The vibrant and diverse historic heart of Willemstad consists of four quarters, with Punda and Otrobanda standing out. Otrobanda, or the 'other side' in English, is connected to Punda by the Queen Emma and Queen Wilhelmina pontoon bridges spanning Sint Anna Bay.
Willemstad owes its name to Dutch governor Willem II van Oranje. The naming followed the Dutch conquest of the island in 1634, which was previously under Spanish rule, reflecting both Spanish and Dutch influences that shaped the island. Papiamento, a core language of Curaçao, bears traces of Dutch, Venezuelan Spanish, and Portuguese.
Historically, Willemstad played a significant role in the Atlantic slave trade. Over time, it transformed into a center for petroleum storage, refining, banking, and, notably, a beloved tourist destination.
Today, Willemstad boasts an artistic essence with murals and street art adorning its streets. An interesting regulation maintains the pastel-colored charm of buildings along Handelskade Street in Punda, preserving the city's quaint and delightful character.
Explore this rich history and vibrant culture aboard BobRental's orange electric scooters, adding a touch of eco-friendly excitement to your Willemstad adventure.
Exploring Willemstad via Electric Vehicle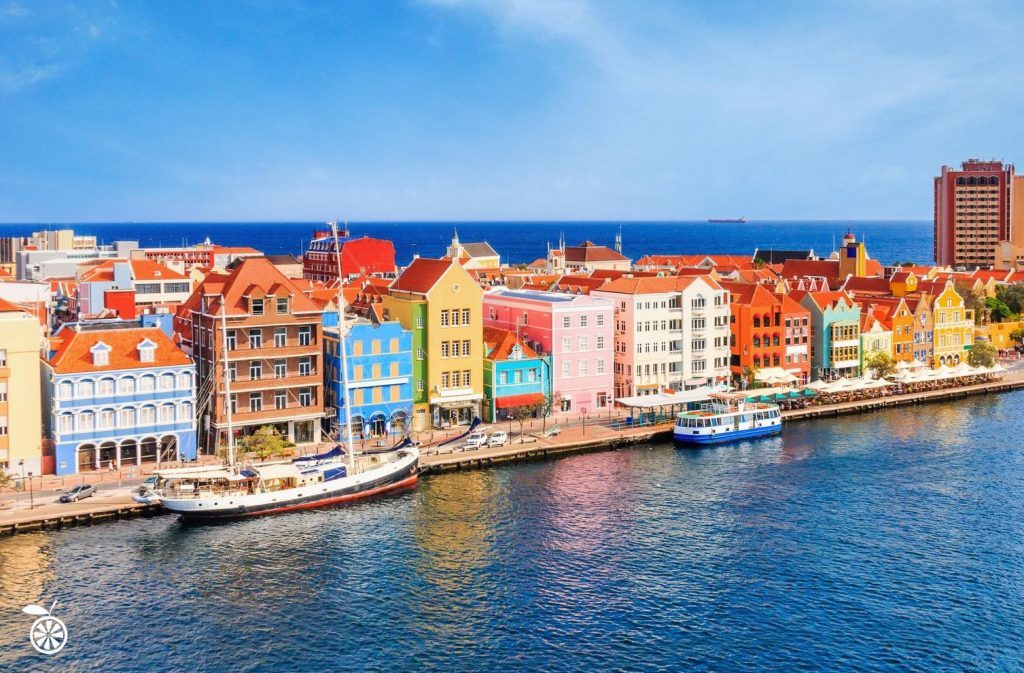 Must-Visit Gems with BobRental's Orange Electric Mopeds
Willemstad is a city brimming with wonders waiting to be discovered. The availability of BobRental's orange electric mopeds enhances your exploration, allowing you to effortlessly navigate through its charming streets and iconic landmarks. Whether you're captivated by the colorful architecture, intrigued by the rich history, or drawn to the vibrant culture, your adventure in Willemstad becomes even more memorable with the convenience, sustainability, and excitement of the electric mopeds.
Queen Emma Bridge:
Start your adventure by crossing the Queen Emma Bridge, a floating pontoon bridge connecting Punda and Otrobanda. The unique pedestrian bridge swings open to allow ships to pass, offering spectacular views of the harbor and Willemstad's iconic architecture.
Observe the Queen Emma Bridge.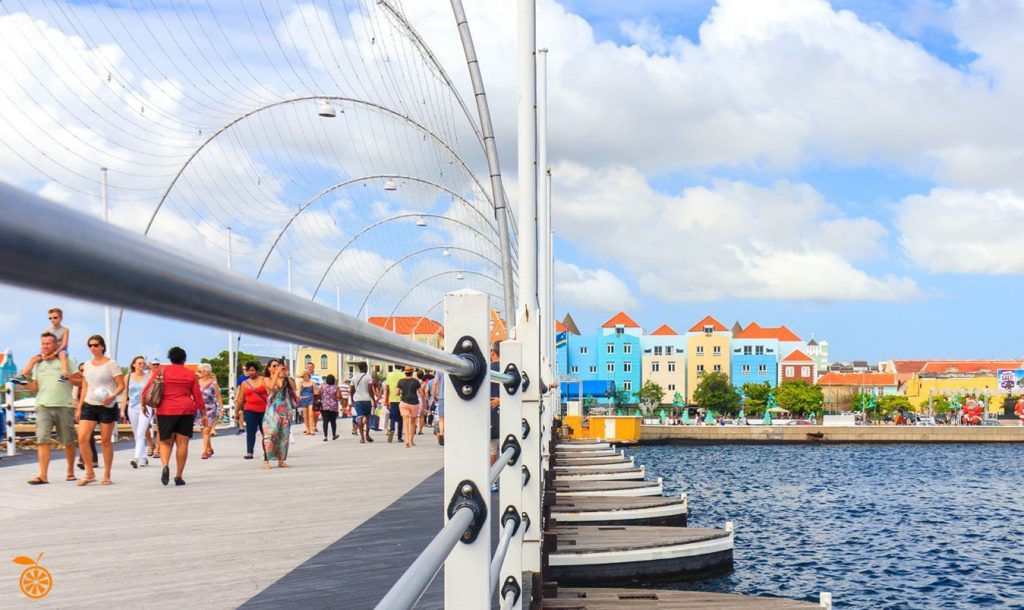 Kura Hulanda Museum: |Discover the island's history and culture at the Kura Hulanda Museum. Housed in beautifully restored colonial buildings, this museum showcases artifacts, art, and exhibits related to the African slave trade and Curaçao's diverse heritage.
Handelskade Street:
Navigate the charming Handelskade Street in Punda, where colorful pastel buildings line the waterfront. The electric mopeds allow you to leisurely explore this picturesque stretch, capturing stunning photos of the postcard-worthy scenery.
Fort Amsterdam:
Visit Fort Amsterdam, the historic Dutch fortress that overlooks Willemstad's harbor. Explore its architecture, cannons, and enjoy panoramic views of the city. The electric mopeds make reaching the fort a breeze.
Floating Market:
Experience the bustling atmosphere of the Floating Market, where boats from Venezuela bring fresh fruits, vegetables, and fish to sell. With your electric moped, you can easily navigate to this lively market and savor the local flavors.
Mikvé Israel-Emanuel Synagogue:
Drive to the oldest synagogue in continuous use in the Americas, the Mikvé Israel-Emanuel Synagogue. Explore its stunning interior and learn about the Jewish heritage of Curaçao.
Rif Fort:
Ride to the Rif Fort in Otrobanda, which has been transformed into a shopping and entertainment complex. Discover boutiques, restaurants, and cafes while enjoying the fort's historical ambiance.
Curaçao Sea Aquarium:
Venture to the Curaçao Sea Aquarium, a marine park where you can encounter diverse sea life through interactive exhibits and animal encounters. Your electric moped will take you effortlessly to this family-friendly attraction.
Willemstad's Historic District:
Cruise through Willemstad's historic district, a UNESCO World Heritage site. Marvel at the city's colonial architecture, quaint streets, and lively markets. The electric mopeds offer a flexible and eco-conscious way to explore the area.
Fort Nassau:
Conclude your Willemstad tour with a trip to Fort Nassau. Perched atop a hill, this fort provides panoramic views of the city and coastline. Enjoy a delicious meal at the fort's restaurant while relishing the breathtaking scenery.
Discovering Curaçao Sustainably
Discovering Curaçao in the most eco-friendly way is by renting an electric moped from BobRental. It's not only a speedy and comfortable option but also a conscious choice for the environment. Embrace the thrill of exploration while minimizing your carbon footprint. With our electric mopeds, you can effortlessly roam the vibrant streets, soak in breathtaking views, and immerse yourself in local culture. Experience the island's beauty while contributing to its preservation. From historical sites to picturesque landscapes, an electric moped ride with BobRental offers an unforgettable adventure that aligns with sustainable values. Embrace the future of travel – one that's exciting, convenient, and kind to our planet.
Discover further insights into our guiding principles.